She was never a devoted mother, but she was a dutiful one, and that's plenty hard enough.
The tiny, grey tiger-striped tabby with the perfect pink nose appeared on the feeding station Cat Cam in the middle of a late-winter snow, standing on her hind legs to investigate the heated cat house we'd placed out there, her body a perfect "b" — long and lean with a round bubble at the bottom. 
Crystal sent me a screenshot with the word: "Pregnant?"
It was the start of coyote season. In the very late nights the wind and the howls were indistinguishable. 
We moved quickly — intending to trap her before she and her belly could become a grotesque, moonlit, beachside snack.
I set the trap outside and then dozed, waiting for Crystal to text. At three a.m. the dings: "GO! GO!" and I went — out to the snowblown porch, where I found our little tabby prize quivering in the cage. I dragged her into the aqua bathtub, tucked blankets and towels around the outside of the metal enclosure (careful not to touch the gate) and headed back to bed. In the early morning twilight, the howls, under my window. Crystal texted, confirming that the coyotes were at the feeding station.
The next morning, Crystal brought the cat — whom we named Sugarplum — to the vet. Sugarplum got things rolling by scratching a technician and scaling the office walls, screeching. Eventually, the vet staff got her into some sort of bag thing, through which they were able to ultrasound her.  
Fetuses. A goodly number of them.
Back at the house, we set her up in a dog crate lined with old towels, with a huge water dish and multiple high-calorie food options: wet kitten food, dry kitten food, baby food.
Mackerel.
I immediately morphed into some sort of apocalyptic feline midwife and Amazoned the crap out of my new role: kitten feeding syringes, kitten formula, piles of clean rags, a veterinary obstetrical kit. With scalpel.
"Scalpel!" Crystal said. "What the hell are you going to do with that?"
Um, break the sac? Hello? Save a life?
Sugarplum required feedings and litter changes twice a day. I conducted these tasks wearing Crytal's heavy gloves, pulled up to my armpits.
Sugarplum was fairly quick to accept that killing me would be an efficient way to stop being fed, so she never attacked me. But I also never went near her without bracing to slam the cage door, just in case.
Because, I can learn.
The vet had estimated Sugarplum was within two weeks of delivery, which I carefully calculated to be extremely inconvenient.
Because, you see, I was buying a house.
Oh, what a merry time That Grand Man would have had observing me frantically jump-starting our 45 boxes, using up the milk and eggs, wrapping the fragiles, losing my mind over inspections and bank transactions, and coaxing the children, please, PLEASE to pack their stuff, while monitoring the pregnant feral cat living in the rental house I was preparing to exit as she was, hopefully, preparing to give birth.
"Are her nipples enlarged?" Crystal texted. Sugarplum was now four days overdue with no sign of babies.
"You know, I asked her that very thing," I texted back. "But weirdly, she will not talk to me about her nipples."
Not since the Duchess of Cambridge first occupied the Lindo Wing has any gestating female been so thoroughly observed. Every thirty seconds or so, I paused packing, picked up a gigantic LED flashlight and shined it into Sugarplum's face, her litter box, her food dish, her belly — and squinching at, yes, her nipples.
Which looked oddly like cat nipples. And not much else.
"She's fucking with us," I texted Crystal. "There are no babies."
I was a good 25-boxes in, now, and Sugarplum was wreaking havoc with my schedule. I needed babies, post-haste.
Because I needed to leave.
I needed to go home.
And in ways mysterious to me, I needed Sugarplum to be okay. I needed to know I had done one good, productive thing, and done it properly.
I was probably about midway through box 26 when I took another break to go shine the light on Sugarplum. In just those short minutes, everything had changed. Sugarplum was melted flat along the cage floor, her chest rising and falling with hard breaths, the fur of her belly dancing like there was popping corn inside.
Also, her nipples? We didn't need to discuss it, Sugarplum and I. When the thing happened, it really happened, and it was obvious.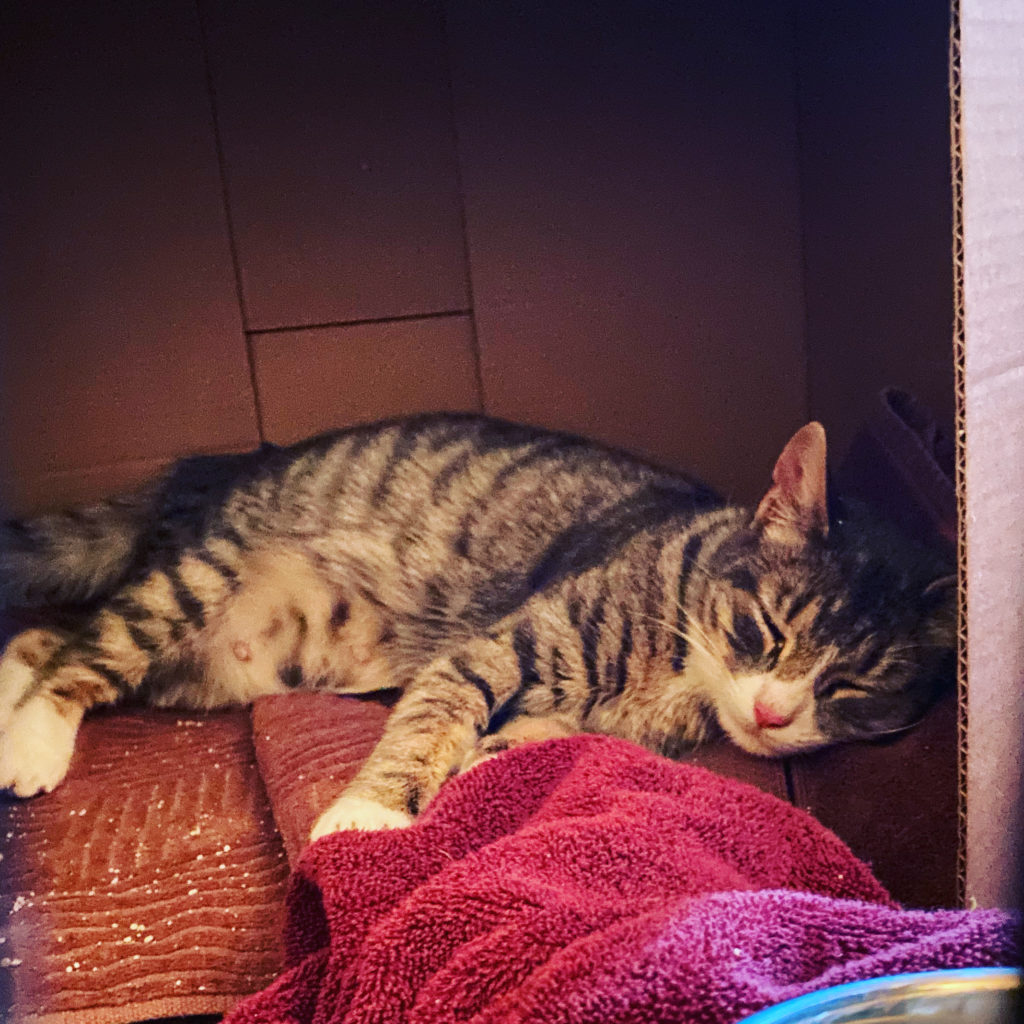 I grabbed a fizzy water and a book and set my phone playing music on the floor between Sugarplum and me.
"Isn't that ..?" one of the children asked. "The music you listened to when we were born?"
"It is!" I said.
I had no idea how boundary-crossing this might be for the children.
"YOU KNOW SHE'S NOT ONE OF US, RIGHT?" they said.
Of course I know, hush. Let mother and Sugarplum be soothed by Tracy Chapman.
I sat there for hours, staring at a laboring cat, willing her to produce a living creature from her nether regions.
No dice.
I staggered to bed. (Not) my room was gradually becoming even less my room. The books in boxes. The framed photos wrapped in paper and stacked. It was a moonless night, but I could hear the ocean. I curled myself into the 100-year-old mattress that smelled very much of the decades of shuttered winters and sweat-bodied summers it had seen.
I was desperate to leave. I was terrified to leave. Because Bolton was what I knew, even if it was mostly lonely and almost empty of me; it was familiar, and the unfamiliar seemed reckless. The unfamiliar might be unmanageable.
At 3 a.m. I woke to the wind shaking the house in that lovely way ocean houses shake. Lovely, I suppose, if you're not responsible for them.
Shuffling down the hall, approaching the bathroom I was startled by a cacophony of kitten squawks. Newborn humans scream their asses off, so why wouldn't kittens?
Still, unexpected.
I found Sugarplum squatting, straining, eyes leveled on me. At her feet, two small mewing creatures.
I rolled myself up in a blanket on the floor beside the cage, all up in that gross rug, close enough to Sugarplum that she could feel me breathing. I set up the iPhone, and Tracy crooned, and together the three of us, Tracy, and Sugarplum and I, listened to the wind and the mewing, and we suffered our sufferings while three more tiny kittens made their way toward life.
As subsequent babies emerged, slippery and enraged, Sugarplum became increasingly exhausted. So I lifted the kittens, one by one, rubbed them clear of the sacs, and used the scalpel to separate them from their placentas. I studied each for a resemblance to Buster.
By morning, Sugarplum lay deflated, her tiny kittens discovering feline nipples functioning exactly as they are supposed to in this scenario.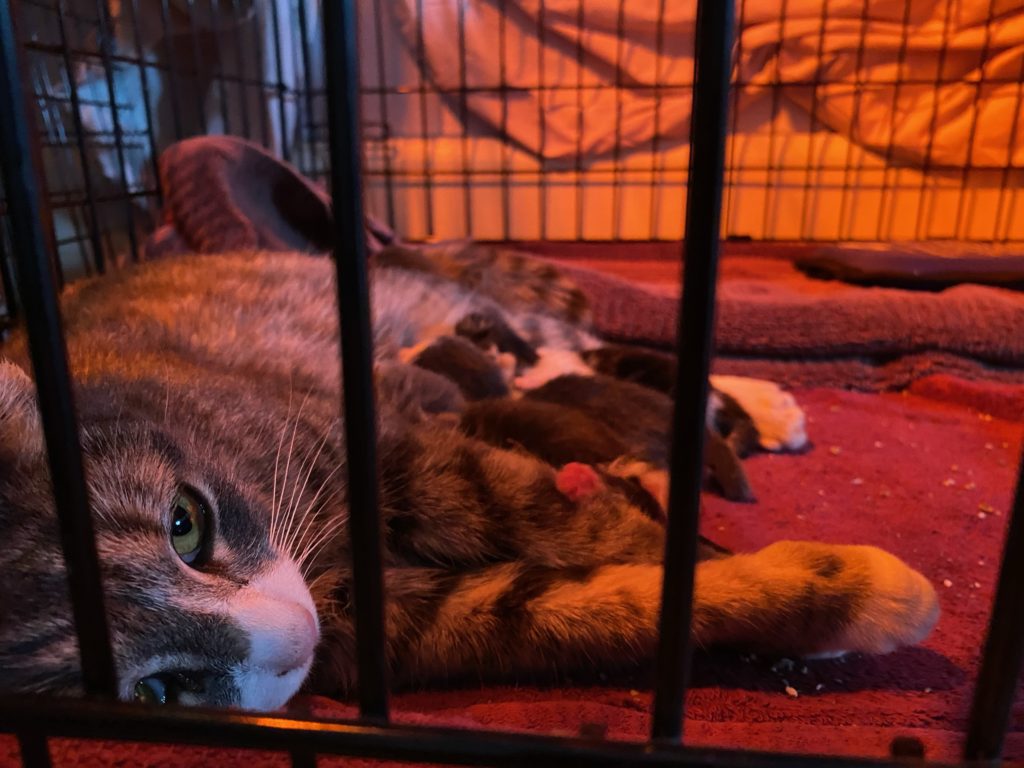 One kitten, a rat-like black-and-white, was valiantly trying to nurse against his mother's back. Every time I reached in to help him, Sugarplum hissed. After some minutes of watching him struggle, I grabbed a large kitchen spoon, opened the crate door and gently airlifted him to the front of her. And then all five were latched.
I grabbed a jar of baby food, spread some on a flat table knife and slipped it between the cage wires toward Sugarplum.
"I know, baby," I said. "There's no tired like this tired." She licked the knife clean, that time, and all the times after, until the jar was empty. I slipped one finger between the wires of her crate, rested it on the tufted fur between her ears.
She let me.
In the end, I fell in love with the fluffy black-and-white one whose life I had saved because he was too stupid to find the front of his mother. I named him Cletus.
There were two that looked like Buster, and I was tempted to claim one, but in the end it was the calico with the bright eyes that caught me. A splotchy one. I named him Tigger.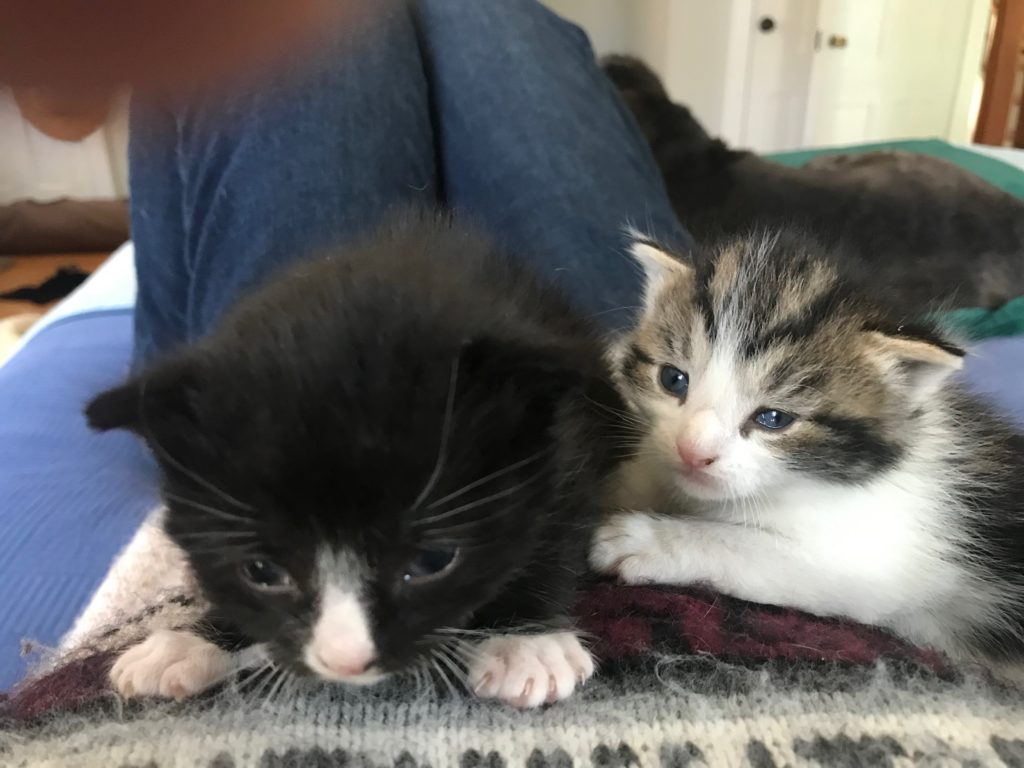 The kittens were two weeks old when I stepped out into the tentative March sunshine and drove to a law office, where I sat, masked, behind glass, and signed myself home.
I painted my new bedroom periwinkle so I would never once confuse it for any of the others I had ever occupied. The living room I painted teal, because I was feeling the teal, and I'd never painted anything teal before.
The day before the kids and I moved into the new house, Crystal and I loaded up Sugarplum and her babies and drove them to a shelter volunteer's house, where they would be fostered until the babies weaned.
It only took two hours for the movers to empty the storage units into the truck, and another two hours to stack those boxes in my new garage. Our 45 boxes, three pantry shelves, dog, cat, and the kids went into the house, where at last, we were sleeping under our own roof. 
After several days unpacking at the New House, I made the trip back to Bolton to finish up, scrape the glitter nailpolish off the walls of youngests' room, clean the stove, sign off with the landlord.
On the way home, I stopped in to visit Sugarplum and her babies.
"We can't tame her," Liz says. "She won't let us."
I approach, Sugarplum growls. I coo, and whisper, and she takes a swipe at me. She has been allowing the babies to nurse, but pays them no mind otherwise, spending her days pressed into the corner of her box in the tub.
"Then she will have to go back," I answer.
Back to the wild beach and the moonlight, where she is meant to be. After the babies are weaned and she's vaccinated and fixed. Back to where she has evaded coyotes before, and will again.
Or, won't.
Her babies will be vaccinated and fixed, too; and Cletus and Tigger will come home to me; the others to their new families.
Over the ensuing weeks, Liz sends me videos of the kittens. They are fluffier — and in Cletus' case stupider — with every passing day. They grow; I unpack.
Sometime after I get my plates and bowls into my cabinets, my books onto my shelves, my pictures hung on my walls, I come across the carpet Ducky gave me all those summers ago, still wrapped in plastic from the cleaners.
I had forgotten all about it.
I free it from the wrapping, unroll it in front of my new front door, and marvel.
It is filled with reds and browns, as I remembered.
And the floral accents are the most gorgeous shade of teal.